Faucet aerators or tap aerators restrict the flow of water from your tap without reducing water pressure. Fit an aerator to your taps and reduce the amount of water you use by more than 50%.
Aerators come in a number of sizes and varying flow rates.
Components of an aerator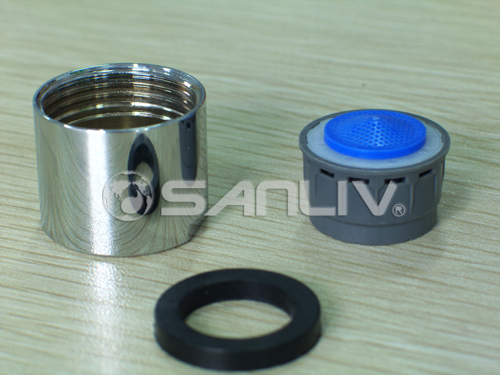 1. Housing
The housing connects to the thread of the tap and provides the outer covering for the insert.
2. Insert
The insert regulates the tap's water flow. To make sure your aerator is efficient, you need to choose the right insert for your flow rate requirements. For example, a 5 litre/minute aerator should be fitted to hand basins and a 7.6 litre/minute aerator is best for kitchen and laundry basins.
3. Rubber washer
Aerator flow types

Aerated flow (Picture 1)
Aerated flow types introduce air into the water stream. This softens the stream and reduces water splash when, for example, you are washing dishes.
Laminar flow (Picture 2)
Laminar flow types remove air to provide a clear water stream. They are commonly used in hospitals and medical clinics to prevent airborne bacteria from entering the water.
Spray flow (Picture 3)
In low flow conditions, where aerators and laminar devices would not function effectively, spray flows spread the tap's water stream over a wider area. This type of aerator ensures full coverage when washing your hands and is recommended for use in public toliets to reduce water consumption.
Installation
Installation of a tap aerator is simple. Just follow these easy steps:
Unscrew and remove your existing aerator (and washers).
Assemble your new aerator by placing the insert and washer into the housing. The type of rubber washer may vary according to your tap requirements. Most aerator packs come complete with rubber washers.
Clean the thread on your tap.
Screw your new aerator on and hand-tighten.
Where to purchase tap aerators
China Sanliv supplies Faucet Aerator,  mixer tap aerator, water saving regulator, water flow regulator and stream controller, order directly from tap aerator factory now!
You can purchase a tap aerator at most hardware stores and plumbing outlets. or, directly contact us.  Please note: we only offer wholesale business for importers at this moment.