New Swivel Spray Adaptor Aerators for Sink Taps or Bidet Faucets. This Dual Thread Spray Swivel Aerator is one of many top quality items in our Faucet Aerators / Adapters department. Attractive swivel adaptors are now available with a new design. The CACHÉ aerator is screwed directly into the adaptor. Thanks to its smooth rotating function, the water will reach any area of the sink or bidet.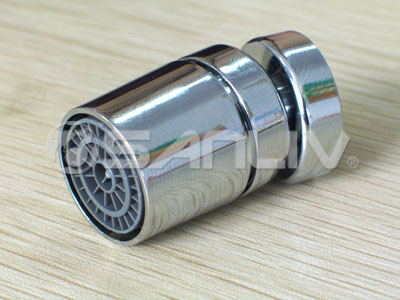 The swivel joint is concealed which minimizes dirt build-up and leaves the surface shiny and clean. Rely on the proven quality and enjoy the high shine chrome plating. Available for the following connecting thread size: Male M24x1.
Sanliv Swivel Faucet Aerator features and benefits of Flow Wright's low flow water saving faucet aerators (2.2 GPM and 1.5 GPM) are: The anti-clog aerator provides a high quality engineered aerated stream without the use of screens, thus eliminating clogging due to sediment buildup. In addition, ultra low flow water saving aerators (1.0 GPM and .5 GPM) are available by special order.
Swivel head spray kitchen faucet aerators provide a high quality engineered aerated stream that is perfect for kitchen faucets. Find Swivel Spray Sink Faucet Aerators, Swivel Spray Bidet Faucet Aerators for your water taps improvement.