Single Handle Bath Tub and Shower Faucet with Rain Shower Set Repair and Installation. New Single Lever Bath/Shower Mixer With Rain Shower Installation. Repair Your Leaky Single Handle Shower Faucet tips and tricks.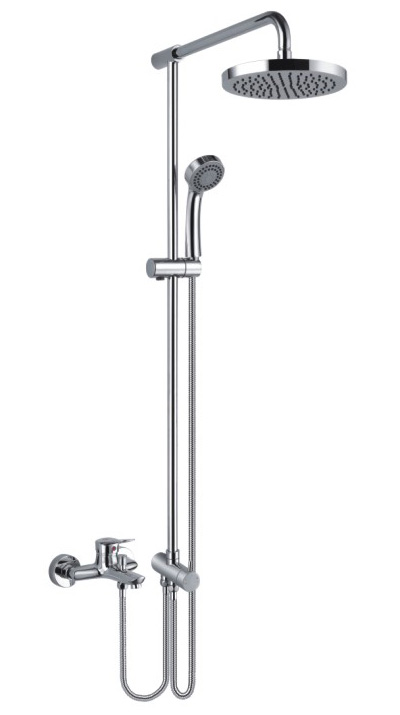 Surface Mounted Exposed Mixer Shower Valve Faucet Repair and Installation tips.  Update your bathroom decor with Sanliv exposed shower mixer. Find various shower fixtures from Sanliv bathroom shower faucet category.
Exposed shower mixer features overhead, soap dish and hand held
Shower hardware has solid brass construction with chrome overlay and all ceramic valves
Features 48-inch length of bar
Modern cross bar handles are 1 foot wide
Features 6-inch standard plumbing lines
8-inch Rain Fall shower head
18-inch total overhead shower
Sleek, modern square shower head with eight bars of jets radiating out from center spanning 9 inches for maximum overhead shower pressure
Surface Mounted Single Handle Bath Shower Faucet with Rain Shower Set Installation
1. Construct suitable connections at 150mm centres terminating in ¾" male threads.
2 Ensuring adequate provision to allow the water to discharge safely to waste, turn on the supplies to flush the system
through. Attach pressure test equipment and pressure test the system in accordance with Water Supply Regulations.
3 Ensure the ¾" supply connections are temporarily capped to prevent any dirt of dust ingress into the pipe work during the making good process. Remove the caps prior to connecting the shower valve.
4 Inlet pipe cover plates are available separately from Aqualisa customer services or complete with the easy fit fixing bracket. If required, apply a thin bead of mastic to the rear of the cover plates. Place the cover plates onto the exposed ¾" threads flush with the finished wall surface.
5 Ensuring the fibre washers are positioned within the valve inlets, offer the valve into position.
Tighten the fixing nuts using a suitable tool taking care not to overtighten.
6 Turn on the supplies to the bath/shower mixer and turn the flow control knob on to flush the system through. Turn off the bath/shower mixer.
7. Shower hose installation is easy, long nut fix with hand held shower head. 6 Angle nut connect to 1/2″ water diverter. Hanging up your hand shower on the shower bracker or shower holder.
8. Connect shower bar with a F1/2″XF1/2″ shower hose 35cm.
9. Install your overhead large rain shower head on the top of pipe shower arm.
Excellent, you have successfully done a good job for your Surface Mounted Exposed Mixer Shower Valve Faucet Installation.