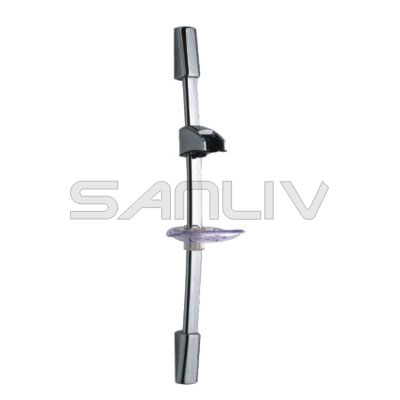 Shower Head Slide Bar with Soap Dish-B16 include 24 inch or 60cm Slide Bar, adjustable handheld shower holder and soap dish. This handy adjustable shower head slide bar will make a great addition to your bathroom shower. Material of this shower rail is Stainless steel or brass optional, nickel chrome plated for long term using.
Products description:
Add splash to your bathroom with shower head slide bar sets for fine design.
To give your bathroom a touch of style and sophistication, the addition of a shower head slide bar offers the complete shower solution for every member of your family. Serving multi purposes shower head slide bar kits can either be hand held or rest in the wall mounted cradle. Embrace in a soothing rain shower spray, ideal for water consumption or a enjoy relaxing pulsating stream, with the flexible metal hose you can you can relieve muscle tension anywhere on the body.
Sanliv shower head slide bar includes top style rain hand shower, slide bar and double spiral metal hose. The shower head easily slides up and down a fixed pole to position the shower above the head or to further your shower experience, enjoy the combined action of top shower head action along with a hand-held shower unit. With our endless choices of shower head slide bar set and coordinating taps and accessories, you can create one look for the entire bathroom.