LUMEN AVANT Luxury Toilet by ROCA, is wellness toilet which essentially promotes intimate hygiene as it is a toilet and bidet in one. It has loads of additional functions like washing and drying, a soft close lid and heated seat, self cleaning, energy saving automatic flushing and an LED screen control panel for controlling all toilet functions as well as room temperature and ambient music.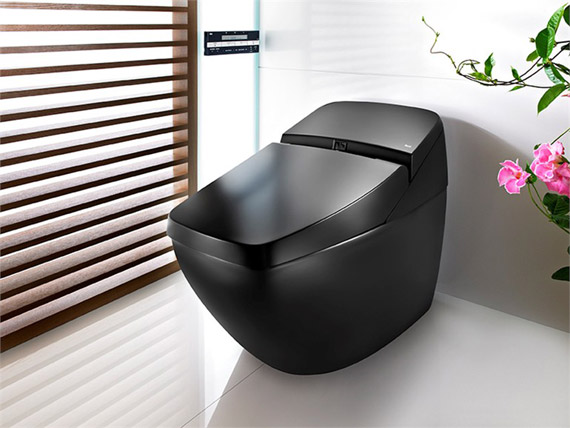 Basic functions:
Cleaning: When you touch a button is activated a total wash for both male and female intimate hygiene. It 'can also adjust the temperature and pressure of the water jet according to your preferences.
Drying: air flow with adjustable temperature makes drying.
Toilet seat and axis: the toilet seat is equipped with the Softclose Roca ® closure that allows a slow damped. The axis is temperature controlled to ensure maximum well-being. All wellness Roca toilets are equipped with a sensor sensing a presence that blocks the use of running empty.
Maximum hygiene: washing of the cannula extends automatically when in use and disappears when not in use. After each use, the cannula it cleans.
Advanced Features: Remote control, easy to use, allowing greater ease of use.
SelfOpen ®: innovative technology that can detect the approach of the person and open the pot in silent mode.
Eco sustainability: how "sleep" when not in use saves energy.
Courtesy light: the interior lighting casts a warm light and harmonious, making the entire bathroom into a place of well-being.
Oscillating jet: to expand the area of ​​cleaning thanks to the automatic movement of the cannula.
Jet button: water jet intermittently.
Measurements (cm): 54 h 42.5x70x.
To learn more on how the aesthetically pleasing Lumen can enhance your bathroom experience on practically all levels, visit Roca.