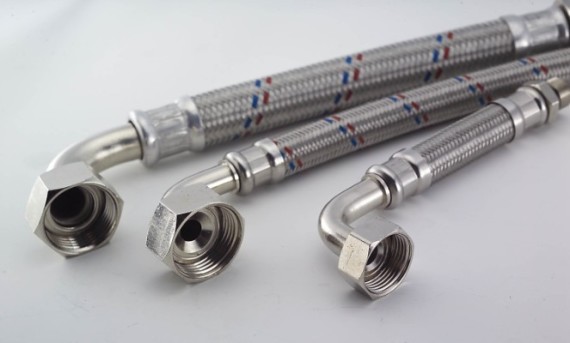 Hi, While surfing for a flexi hose I came across your site, on the opening page you have a Braided Flexi hose with an elbow, it is number 9 on the opening page, I did click on it but got no response and is why I am writing this mail. I have one in my bathroom which is leaking, I have tried many places so far without success.
My specifications are, 1/2″ compression male x 1/2″ compression female with an elbow x 300mm long and must be braided as I need the flexibility of a braided one because others do not have the same flexibility. Is it possible for you to supply me with one as I am now quite desperate to get the facility running again, where the former owner of the property acquired this hose from I do not know, I have attempted to contact them without success. Thanking you for your attention.  – Gerald Cavaliere.
We can make any size, any sepecifications according to customers' requirements. 500mm Flexible S/S braided hose with 3/8″ bsp female fittings. Ideal for easy connections to 3/8″ bsp fittings. 3/8″ bsp brass ends one straight and one elbow. Can be used on hot or cold water.
More from Sanliv Series: Braided Flexible Hoses