5 seconds hot water, instant heater faucet, Electric instant hot water tap, electric heating faucet… All these advertising on the web. Maybe you do not know how the Electric Instant Hot Water Faucet works. Sanliv Industries like to share the experience with all customers online.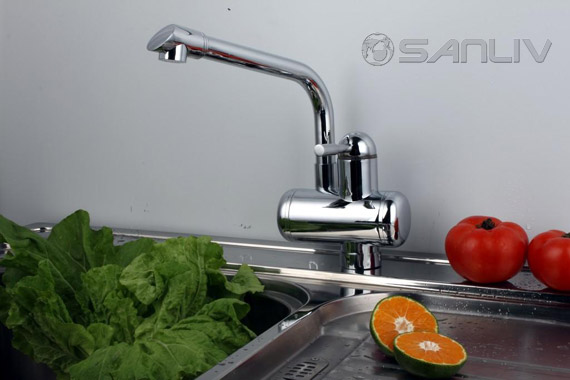 Key features 1. Save Power The product adopt genuine terminal heating mode,so water will be hot as soon as switch it on , no need warm-up, no need insulation, no pipeline heat loss, saving pipeline heat loss 10-20% compared with storage-type caused by collection water supply, saving pipeline remaining energy wasted 5-10%, so calculated by scientists, the product save power 20-50% than storage-type electric water heaters, energy utilization rate reach more than 95%.
2. Water-saving normal storage-type electric water heaters ' pipeline consumption are very much. Average one time, emptying pipeline cold water will loss 2.5L-5L water, if one day use 20 times the amount of loss is 50L-100L, Rapid Water Heater heat up very quickly,no pipeline water loss, every time water loss is almost equal to 0 .
3. Save time This product's heating speed is very quick, water will be hot as soon as switch it on ,save time.as soon as open switch, the power will be connected automatically, within five seconds hot water will outflow, very fast, easy to use, avoid storage-type electric water heaters waiting helpless. Truly meet modern fast pace of life demands.
4. Security Real water & electricity isolation , isolation voltage is more than 1500V; wall-call design, from structure ensure that electric leakage does not hurt people; high sensitive built-in electric leakage protection (optional), use technology to protect your safety; the main body's grounding is reliable ,traditional but also reliable protection measures; anti-dry design, ensure that water automatic power-on ,anhydrous automatic power-off; avoiding Ultra-high water pressure design, reflects meticulous care of security; completely relieve your worries.
5. Durable adopt imported heat resistant engineering plastics; superior ceramic disc, 50-year water-tight; electrical contact average life is more than 10 million times; heating element continuous use life is more than 5 thousand hours; no need pave hot water pipes, water leakage potential safety hazard reduce 50%.
6. Convenient and comfortable within 5 seconds repid outflow hot water, water temperature remain constant; nozzle can be rotated to facilitate the use of double sink; hot & cold water can be dual-purpose; water temperature can be adjustable between 30-60 degrees; Compact Size,beautiful appearance; easy to install, suitable for all kinds of renovated homes.
If you wish to order Sanliv products online, welcome to visit www.sanliv.com and contact us by email.