Bathroom accessories are an important part of the overall look of your bathroom. Sanliv Wall Mounted Bathroom Accessories including Towel Holders, Towel Bars, Towel & Robe Hooks, Towel Racks, Shower Baskets, Toilet Paper Holders, and Bathroom Shelves, etc.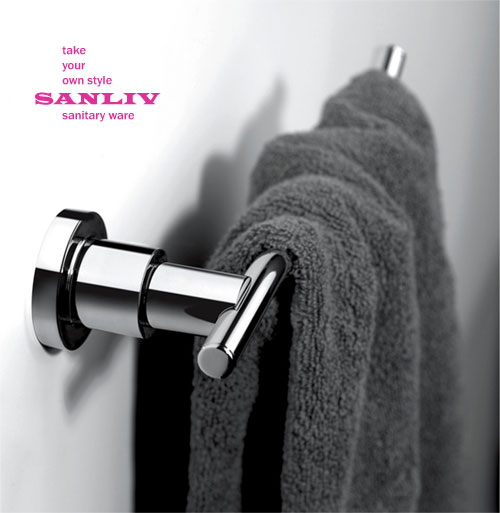 Sanliv Towel Bars
There are many different names for wall mounted bathroom accessories, including wall hung, wallhung, wall hanging, and wallmount bathroom accessories. Basically, they are bathroom accessories that are attached or fixed to the wall. These include towel bars or rails of all kinds, such as swivel towel bars and double towel bars. Towel bars can come in a variety of finishes, including chrome towel bars and bronze towel bars.
Bathroom Towel and Robe Hooks or Hooks
Towel hooks or robe hooks can also come in a variety of different finishes, including chrome towel hooks. Bathroom hooks can also come in satin nickel/brushed nickel, gold, wenge wood, copper, and bronze, among other finishes. You can also pick from double hooks, suction hooks for your shower door or mirror, and hook racks.
Towel Racks and Shower Baskets
Towel racks or towel shelves are used to hold towels either in the bathroom or in the shower. Sometimes, they are used to hold rolled towels in the shower. Shower baskets can be used to hold shampoos, soaps, and sponges in the shower, or mounted on the bathtub wall, and can come in finishes such as chrome shower baskets. They can come in many layers too, such as double shower baskets and if needed, they can fit in the corner, saving space, if you get corner shower baskets.
Toilet Paper Holders
Toilet paper holders, also called toilet roll holders or toilet tissue holders, are used to hold toilet tissue beside your toilet. They come in a variety of types, including chrome toilet paper holders, free standing toilet paper holders, covered toilet paper holders, vertical toilet paper holders, spare toilet paper holders, and double toilet paper holders. Some types include recessed toilet paper holders which are actually mounted inside the wall. Most recessed toilet paper holders are made in stainless steel.
Bathroom Shelves
Sanliv Bathroom shelves come in a wide variety of types, including glass bathroom shelves, chrome bathroom shelves, and double bathroom shelves. Bathroom shelves sometimes come with a towel bar attached, too. Bathroom shelves can hold a variety of things, inclduing make-up, parfumes, lotions, soaps, and more. They can keep your bathroom clean, tidy, and organized.