The Look of Bar Faucets and Bar Faucet Brands. Everything you need to know about bar faucets.  most bar faucets have a long spout that easy to use on kitchen sinks.
Bar faucets might only appeal to a small segment of kitchen decorators, but those who have a wet bar know that the right faucet can make a big difference in style and efficiency. The right bar faucet can make preparing drinks or food items easy, saving you the hassle of filling a big sink or attempting to negotiate under a low kitchen sink faucet.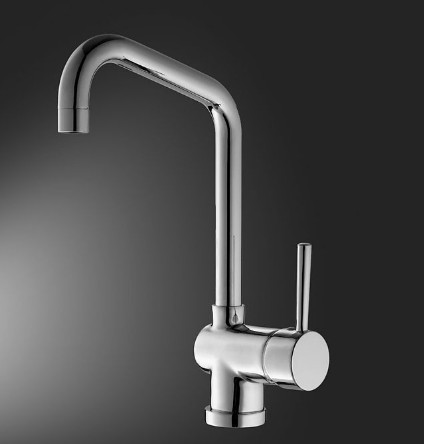 From a style standpoint, if you're concerned about making sure that your bar faucet falls in line with the rest of your kitchen decor, you'll be happy to know that many faucet-makers are designing kitchen faucets that coordinate with bar faucets, so you can easily match the look of your wet bar or food prep area with your kitchen sink.
The Look of Bar Faucets
Though there are many variations, most bar faucets have a long neck that creates a high arc at the sink. A true bar sink faucet should easily allow room to rinse out pitchers or empty wine decanters, but also gives you plenty of room for cleaning produce, rinsing cutting boards or doing other food prep tasks that require lots of room above the sink.
Bar sinks are available in both single-handle and double-handle designs, and also in many different finishes. Common bar faucet finishes include antique bronze or copper, but chrome, brushed nickel and a variety of other finishes are available.
Bar Faucet Brands
Many of the leading faucet brands produce lines of bar faucets, but a few you may want to look for include:
Delta. A Delta bar faucet can add a touch of sophistication to your decor without compromising on practicality. Many models include sprayers, which can be helpful when it's time to clean up your bar sink.
Newport. You can find a Newport Brass bar faucet in single or double handle design, and don't be deceived by their name – brass bar faucets aren't their only option; they offer a wide range of faucet finishes. Their designs often have a quirky and more modern look, but they also have traditional designs.
Sanliv. Sanliv bar faucets are simple in design, but are available in a variety of finishes. While double handle models exist, their easy-to-operate single handle models may come in handy when you've got your hands full.
Welcome to see all modern kitchen and bar faucets at sanliv.com.