Size Doesn't Matter Design Ideas for Small Bathroom – A good bathroom design would allow you to get all the luxuries and comforts that you want even in a small bathroom. While all of us want a large bathroom, some of us have to make do with tiny bathrooms that are usually seen in most apartments. However, even these small bathrooms can be designed in such a way that they look and feel larger with the help of a few clever fixtures, lightings, colors and accessories.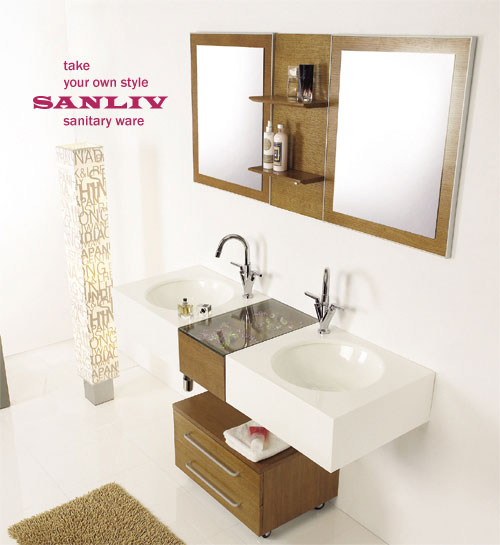 The Bathroom Lighting
For a quick bathroom makeover for a small space, the first bathroom design idea would be to change your lighting. Use any recessed lighting for the ceiling and use wall scones to add warmth to the idea. You can also place skylights or get larger windows in the bathroom to use sunlight to create an open space.
Using the Right Bathroom Furniture
One of the most important elements in bathroom designs for smaller spaces is the furniture. Do not use a large vanity for a small space. Anything which is large and sticks out would make the bathroom appear smaller. Use a delicate pedestal with nice storage and get smaller bathroom shelves rather than a linen closet.
Colors and Mirrors
In order to make the bathroom appear larger, you can use a large mirror at the sink to reflect the light well or several small mirrors placed cleverly for distributing light. Use light colors on the walls and the floor. If you do not want to change the floor you can use rugs of lighter colors on the floors.
Bathroom Accessories
Do not use too many accessories in a small bathroom. Instead, incorporate only two or three accessories in your bathroom design which are made from crystal or any clear material, with angular and sleek shapes. Use a clear glass door for the shower rather than a frosted one or just a good shower curtain. You can even add an artistic touch to the bathroom with the help of a mural on the largest wall or a beautiful framed picture of a natural scene. Do not use more than one pictures or paintings in smaller bathroom designs.
You can also create an illusion of a higher ceiling by adding cornices, molding designs at the edges or painting a lattice. You could install some crown molding around the ceiling for expanding it. Painting stars and clouds in white and light blue can make your space appear larger. An important thing to remember is that you should keep your bathroom uncluttered at all times; only keep what is necessary. Keep the bathroom clean at all times. Keep the medicine closet, linen and the vanity area organized and clean it regularly. You can use some creativity and imagination to change the look of your bathroom and create a sense of openness.
Creating a bathroom which is functional and yet beautiful is not very difficult even if you have a small space. With the design ideas given above, it is not very difficult to make a small bathroom look stylish.