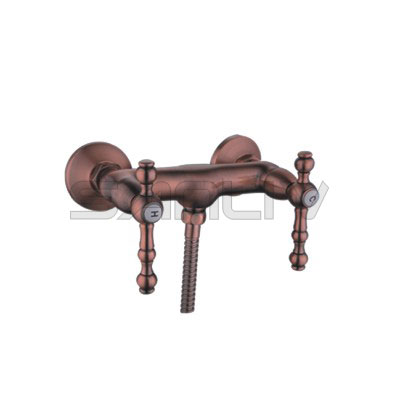 Wall mount two handle shower mixer in antique red bronze finishing – 83905RB
Shower mixers are capable of mixing hot and cold water, in a special valve. After being mixed in a valve it is available at the shower head. Sanliv shower mixers can be used both for low and high pressure. They are available both as surface mounted fixture and flush mounted fixture. In surface mounted shower mixers the pipework is installed on the top of the existing surface. Whereas in flush mounted the pipework is hidden behind the surface whereas the valve is seen.
Wall mount two handle shower mixer Finishes:
The most common material used to manufacture shower mixers are metal such as brass, copper, aluminum, cast iron, wrought iron etc. Sanliv shower mixer finishes such as antique, rusted, lacquered, patina, silver-plated, polished etc.