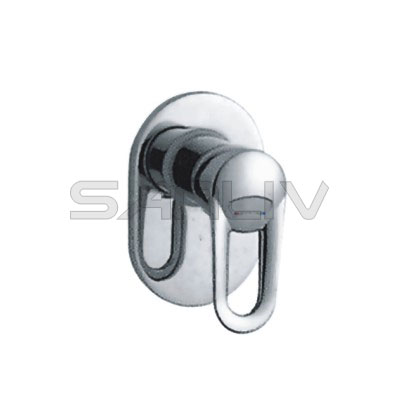 Traditional Chrome/Polished Brass Shower Faucet by Sanliv. Single Handle Concealed Bathroom Shower Faucet Includes Following Parts:
1. Metal Lever Handle, Also Available In Tub/Shower Model;
2. Posi-Temp Pressure Balancing Valve Cartridge.
This single handle shower faucet offers a dependable, classic design to create a flawless look in any bathroom. Available in an array of stylish finishes, this piece blends well with many types of bathroom decorating.
Sanliv Bathroom shower faucets are offered in a compelling range of styles, colors and materials to accommodate individual aesthetics and tastes in decor. These can come in single lever, pullout spray, high arch, offset handles, and so on.
Shower faucets should be chosen to complement the architectural theme presented by the cabinetry and appliances of the bathroom. Some concealed shower faucets are reminiscent of an old-fashioned pump, while others appear to be an example of modern sculpture. Likewise, shower faucets should fit into the overall color scheme.
Sanliv Brass Shower Faucets Available Finishes:
Chrome plating
Polished Brass
Platinum / Chrome
Chrome / Gold
Brushed Nickel