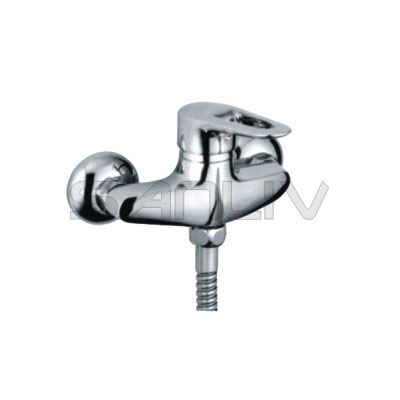 Wall mount shower mixer faucet, Model No. 61705, wall mounted faucets are available for above-the-counter and freestanding basins that require a long spout for extended reach. These are usually widespread units with separately drilled valves and a single spout. Before installing it is made sure the spout is long enough for adequate basin clearance.
Wall mount shower mixer faucet-61705,
Dimensions – Depth: 6.1″, Width: 6″.
Wall Mounted Shower Faucet with Optional Shower Set,
2 eccentric couplings 1/2″,
NOTE: To meet the required U.S. plumbing code, a remote pressure balance valve is needed.
Wall mount faucets require a separate wall-mount valve and drain for installation. Bathroom wall mounted faucets are used in several sink designs including vessel sinks. Wall mounted sinks are either hung on a metal bracket attached to the wall or bolted directly to the framing.
Finishes
Wall mount faucet sets come with a combination of finishes that draw more attention to their distinct styling. For example, a wall mount faucet with a brass and chrome combination finish creates a fresh but sophisticated look in any bathroom. These are created out of wide choice of materials such as plastic, chrome, glass, metals and ceramic.