Bathroom shower valve also called shower faucet, it is the most important element in your shower. Learn more about Shower Faucet Types and Shower Fixture Finishes befor you buy. Controlling your shower water temperature is more than a convenience, it's a safety issue. And a good way to protect your family is with an anti scald shower valve.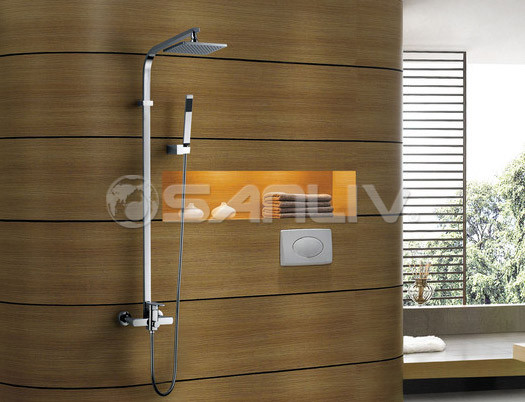 Shower Faucet Types
Single-handle faucets have one spout and one handle that control the flow of both hot and cold water. They are generally safer and more convenient to use than their two-handled counterparts. With practice you can find the temperature you want on the first try. You can also turn the water on with your elbow or wrist when your hands are full or dirty.
Center-set faucets combine a spout and handle(s) in one unit. These faucets have either single-handle or double-handle controls. Most are designed for a three-hole basin, with the outside holes spaced 4 inches from center to center. However, some have a single-post design that requires only one hole.
Spread-fit faucets separate spout and handles. The connection between them is concealed below the sink deck. Installers can adapt them to fit holes spaced from 4 to 10 inches apart. You can individualize them even more if they are mounted on a countertop next to the sink. For example you can place the spout on a rear corner and the handles off to one side. These faucets are handy for tight installations that lack the room. They also are ideal for whirlpool tubs, so that the handles are accessible from outside the tub for filling. This type of faucet offers a more traditional look than single-handle faucets and you can combine different style handles and spouts for a custom look.
Wall-mount faucets are attached to the wall as opposed to the sink or the counter. These faucets are the most common for showers that don't double as baths.
Shower Fixture Finishes
Most faucets are manufactured of brass, plated with one of four materials; chrome, nickel, stainless steel or brass. Chrome is typically the least costly finish and you'll find plenty to choose from, including many with an enamel finish in white or other colors.
Nickel is quite popular, with a brushed finish that gives a more muted metal finish that will not show fingerprints and water spots as much as polished chrome.
For even higher quality and a bit different look, you can go with stainless steel. Stainless fixtures may be polished smooth for a highly reflective finish or brushed for a softer look that is easier to keep looking clean.
For the ultimate in luxury and longevity, a brass finished shower faucet and showerhead will give your bathroom a true designer look; many fixtures may feature brass and stainless steel or nickel to give them an even more unique design pattern.