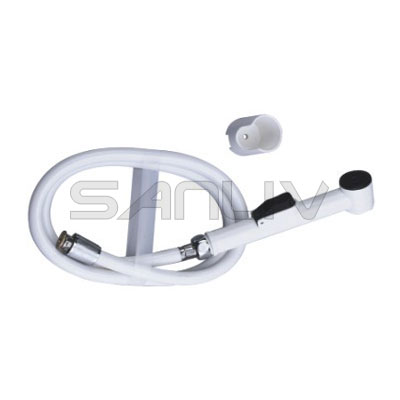 It is important that all Hand Held Shower Shattaf are installed according to the Water Regulations Advisory Service guidelines. The shower head must not be installed in a way that the head spray can reach the toilet bowl.
Sanliv Shattaf Bidet Spray Attachment
Convert Any Toilet Into a Bidet…
No need for an expensive plumber,
anyone can install in minutes!
The White Bidet Shattaf Spray, w/white hose comes complete with all accessories needed to quickly and easilly fix to a standard 3/8 inch compression fitting (valve behind toilet). For your convenience, if you have a 1/2 inch connection, we sell an adapter which converts your water valve from 1/2 inch to 3/8 inch.
PLEASE NOTE: Only 5% of homes in North America have the 1/2 inch connection. All of our products come with a 30 day money back guarantee (Unused Items Only). Each unit comes packaged with a sprayer with a trigger which controls the pressure, flow control value, t-valve, compression connectors, 4 foot reinforced PVC hose, built in check valve (one way valve), wall bracket, double sided tape and screws/plastic anchors. Each unit take approximately 5-10 minutes to install with a standard adjustable pair of pliers.