Every bathroom with a wall mounted vanity mirror, but how to find those stray eyebrow hairs, lighted makeup mirrors are invaluable tools for women. After all, doesn't every woman want to look her best?
Lighted Makeup Mirrors vs. Standard Vanity Mirrors
Even the busiest women spend at least a few minutes in front of the mirror each morning before they face the world. Lighted makeup mirrors have several advantages over standard mirrors that make it worth considering. Bathroom or bedroom lighting may not be focused enough to provide the necessary light for even makeup application and grooming. Most lighted makeup mirrors also offer some level of magnification, perfect for finding problem spots, blemishes, or stray hairs.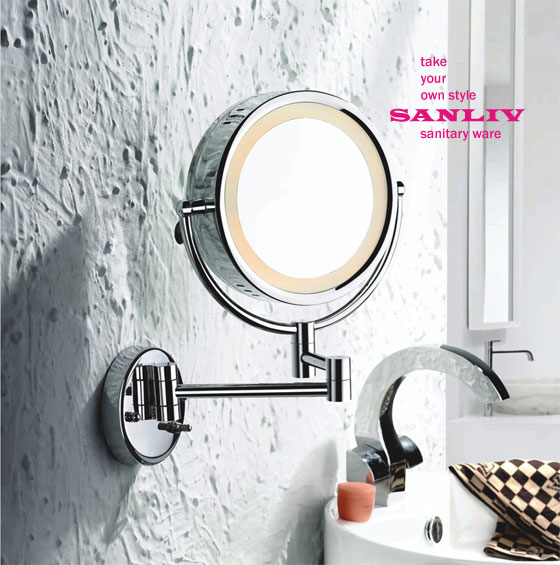 Types of Mirror Lighting
Beauty experts suggest that the best lighting for makeup application is natural sunlight. Since this is highly impractical for most women, many lighted cosmetic mirrors offer lighting that mimics natural daylight. Some mirrors offer both day and evening settings. If you are willing to spend a few extra dollars, you can even find those that offer office and home settings in addition to day and evening lighting.
There are several types of lighting typically found on makeup mirrors. The lights may be located along the side, appropriately referred to as side-lighting, or as a central light source, known as spot-lighting. The lights may also be located around the rim or edge of the mirror, referred to surround, diffuse, or halo lighting.
Magnification
Cosmetic mirrors usually have two sides, with a swivel hinge to change between the two mirrors with ease. One side is a standard mirror, while the other side offers a higher level of magnification. The mirror may or may not have panels that open like an armoire for more viewing space, and close for easy storage.
Magnification levels vary from 3x to 8x, with the average being 4x to 5x. The combination of lighting and magnification allows closer viewing of the face so you can be confident your appearance is impeccable.
Wall-Mounted and Vanity Mirrors
While free-standing lighted makeup mirrors are widely available, wall mounted varieties are another option. Two sided mirrors are available to mount to walls using arms to extend them out and flip the mirrors easily. For large, mounted vanity mirrors side-lighting or surround lighting is recommended. Having only lighting above a vanity mirror doesn't allow sufficient light and may create shadows that effect your makeup application.
Lighted Travel Mirrors
For busy women on the go, smaller travel size lighted makeup mirrors are also available. Most are compact and easy to fold and store in a purse, overnight bag, or suitcase. Some have the handy feature of automatic light shut-off when the mirror is closed.
Styles and Finishes
Lighted cosmetic mirrors come in a range of shapes, styles, and finishes. They may be round, oval, square, or rectangular. Popular finishes include brass, nickel, chrome, gold, and clear or colored plastics. Since your makeup mirror also serves as part of the décor in you bathroom, bedroom, or dressing room, you may want to purchase one that matches the finishes and style of the room it will be in.
Lighted makeup mirrors Pricing and Selection
Lighted makeup mirrors are available in a variety or price ranges to suit every woman's budget. Discount stores like Family Dollar and Big Lots may offer inexpensive versions virtually anyone can afford. Department stores or specialty retailers like Sharper Image may offer more upscale cosmetic mirrors. Most drugstores also offer a decent selection of cosmetic mirrors.
Warranties and Replacements
If you are considering a higher-priced lighted makeup mirror, you may want to look for a warranty or guarantee. Decent cosmetic mirrors usually offer a standard one year guarantee from defects in materials or workmanship, just be sure to save your receipt. For a small additional fee from some retailers, you may be able to purchase a replacement plan for up to three years.