Single Handle Pull Out Kitchen Faucets always offers pratical functions. This contemporary Kludi pull out kitchen faucet telescopic, L-ine kitchen mixer faucet gives a different look and the most memorable culinary experience. You'll love the pull-out feature, which basically brings water to you.
For 360° freedom of movement – With its flowing lines, minimalist design and a touch of extravagance, KLUDI L-INE is the first choice for the architectonic kitchen. Since ist ability to move 360 degrees around generous workspace for flexible working is a matter of course. Ideal for all those who enjoy the greatest flexibility.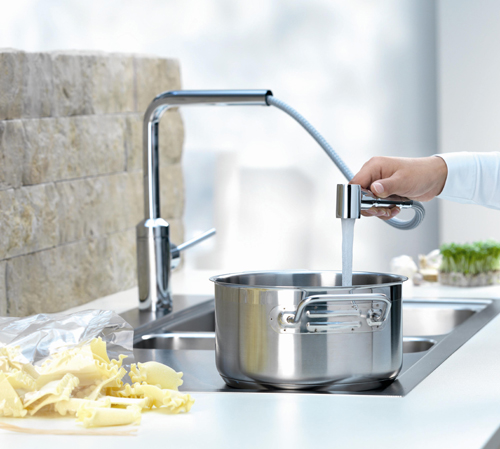 If you're looking for something ultra-modern yet understated, check out this contemporary, telescopic kitchen pull-out faucet by Kludi. The L-ine kitchen mixer boasts a horizontally shifting telescopic spout which gives it its distinctive look and most-memorable culinary experience. You'll love the pull-out feature, which essentially brings the water to you. And the 220-degree swiveling in the telescopic faucet is ideal for filling oversized cooking pots and in awkward or tight spaces. Add to this the flexible pull-out hose, and the water is literally at your fingertips, wherever you are! When you just want to simplify the look and function of your kitchen, the extendable portion of the faucet is totally removable. Check it out at Kludi.
Single handle pullout kitchen faucets are multifunctional allowing the user to switch easily from regular faucet flow to sprayer function in a single unit. Single handle pullout kitchen faucets have the benefit of regulating flow by up-and-down motion and temperature with side-to-side motion as well as changing to and from the sprayer function using a single hand.