Kitchen Faucets is More than just functional – Kitchen faucet better understood, Choose a kitchen faucet carefully. Kitchen faucets with their great looks add a whole new appeal to your kitchen.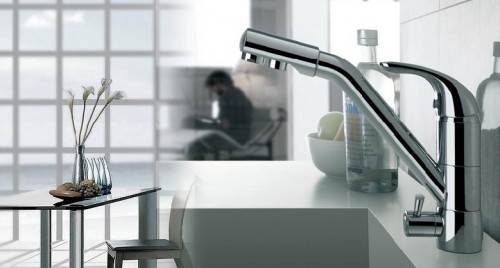 If you think that a kitchen faucet is just yet another functional tool in your kitchen, then think again. In addition to their functionality, these extremely well-crafted and stylish kitchen faucets add great class to every designer kitchen. So whether you have a small kitchen or a country styled one, a great looking and reliable faucet is a must.
Kitchen faucet better understood
In case you're not aware, then a kitchen faucet is a valve to control the release of water. It dispenses both hot and cold water and can be used for washing hands or rinsing food and dishes. Most faucets in the kitchen also come equipped with a spray feature so as to permit faster rinsing.
Choose a kitchen faucet carefully
So you're designing your kitchen and have looked in to every department including the kitchen faucet. But if you're still confused about the kind of kitchen faucet to choose, then here are a few points to ponder:
* Holes in the kitchen sink: This is an important consideration while choosing a kitchen faucet.
* Type of faucet handle: There are several handle options to choose from. In case of the single handle, it offers quick and easy water flow. Generally, this kind of faucet uses one or more holes in the sink or countertop and can be operated easily with just one hand. The two handle faucet provides a more accurate water flow with temperature and water flow adjustments possible and makes use of three or more holes. Incase you decide to go in for a pullout or integral faucet, then you have the dual advantage of functionality and style. The head of the faucet can be pulled out and with the touch of a button you can choose the regular or spray option. In case you don't, for any reason have holes in the sink, then the wall mounted faucet is the best option. It's also great for an antique type of kitchen. But in case your cooking gives you immense pleasure, then go in for the pot filler kitchen faucet.
* Spout and reach: The height depends on the arch, either high or standard. The reach of the faucet depends on the number of bowls and the average size of each.
* Other accessories: In case you have more holes in the sink, then you can go in for added accessories like a soap dispenser, hot water dispenser and even a filtered water dispenser.
Irrespective of the style or shape of the kitchen faucet that you decide to install, make sure the material you choose is either solid zinc or brass and certainly not plastic. These materials last really long and look great too. They can control water under all circumstances and are hard water resistant too. Most importantly these faucets can be installed very easily. But your choice does not end there. There are others like chrome, oil rubbed bronze, satin and brushed nickel and even stainless steel. These can range between $80-$250. Choose the shape, design and size that suit the décor of your kitchen the best. There are several brands- Kohler, Moen, Delta and Grohe among others whose designs are simply stunning.
But there are several sites that offer discount kitchen faucets and bathrooms faucets at extremely reasonable prices.
Kitchen faucets with their great looks add a whole new appeal to your kitchen. But in case you want to go the whole hog, then check out the European style kitchen faucets. You'll never need anything else.