Function of the rod Lever operated pop up waste: Push and pull the knob behing the basin mixer to open and close the plug. The lever system is designed to pass through the same basin hole as the basin mixer so there is no need to have another hole in the basin This top quality product will add lasting function and beauty to your bathroom.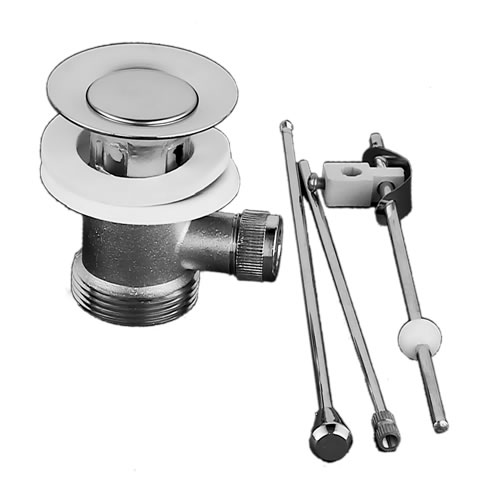 How To Install A Push Pull Lever Rod Basin Pop Up Waste?
Place the waste outlet into the bottom of the basin
Use the washers provided with the waste together with silicone sealant to ensure a watertight seal (see our article on fitting a basin waste without leaks)
Most basins have an integral overflow system that is built into the sink and does not have an exterior overflow pipe and so it is important that the waste outlet is aligned correctly so that the overflow can empty correctly
Holding the waste outlet in position, tighten the back-nut under the basin
Then insert the nylon ball end of the pop up waste plug rod into the hole in the tail of the waste and fix it in place with the collar nut
Then pass the other rod down through the hole in the back of the basin and attach the 2 rods. Sometimes there is a 3rd rod to connect the other 2
The piece that connects the 2 rods is adjustable so play around with the push pull lever pop up system until you get the best position
Next fix the trap to the end of the waste outlet using plumbers thread tape for a good watertight seal
Finally connect the other end of the trap to the existing waste pipe.
Please ensure that your basin mixer has a hole in the back for the pull rods to pass through.