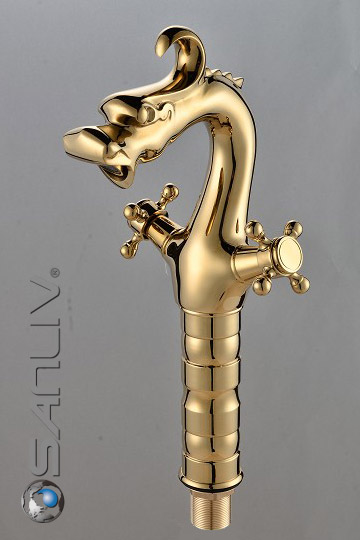 Sanliv Dragon Style Two Handle High Vessel Sink Faucet in Golden finishing. Made in solid brass, the stylish streamline bring new concept to modern bathroom decorating designs.
Traditional two handle control hot and cold water lines, this high neck bathroom sink faucet is suitable for all top counter wash basins. Dragon style steamline perfectly combine the practcial function and high image lifestyle into one faucet.
Solid brass material, ceramic cargridge, PVD Gold plating guarantee a perfect item as you dreamed to be. Sanliv offer profesional customers support, you can order any quantity as you like. Container shipment worldwide guarantee!
Braided flexibl hoses and installtion fixtures are must-have accessories with the faucets. Automatic pop up drain waste is optional for your choice.