Clever Solutions for Small Bathroom Spaces: Using movable & Folding Towel Rack Shelf with Robe Hooks to improve your bathroom space. Even a little extra towel shelf space can make a big difference in a small bathroom. Putting up a large cumbersome shelf will only make the bathroom look smaller, so keep shelving as light and airy as possible in a small bathroom. Before putting up a towel rail shelf, make sure its presence does not act as a visual room divider. Because traditional shelves might be too big for a small bathroom, you may need to look to other items for bathroom shelving ideas.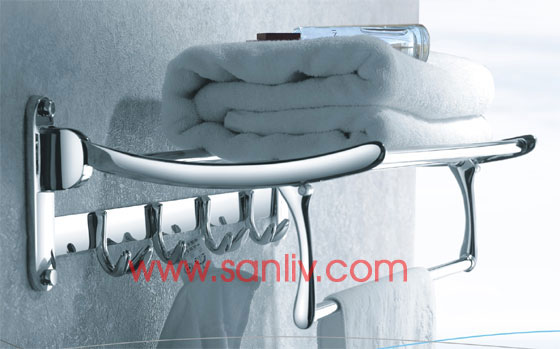 Hang a single towel bar in place of your towel rack and put robe hooks underneath the towel shelf to hold towels. It is the best small bathroom design renovation. This idea works well in a child's bathroom.  Kids never seem to get the towels back on the rack neatly, if at all. This hook and shelf idea lets you hang more towels than you could on a towel rack and you have an extra shelf for your child's grooming necessities.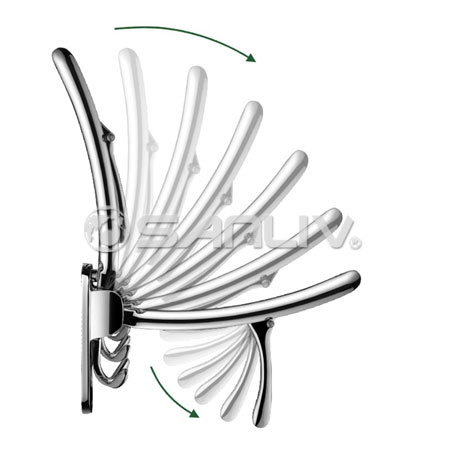 Movable Towel Shelf with Robe Hooks.Chrome Towel Shelf with movable towel rail and foldable towel bar, bathroom towel shelf with four double robe hooks. Order Stylish and New Swivel Towel Rack are easy to fold and unfold. Small space, big function.
Main features: 24″ wide towel shelf
1. Stylish movable TOWEL SHELF WITH 4 pair of double robe hooks, AND SWING BAR.
2. Modern movable towel shelf, with foldable towel rack and single towel bar.
3. OEM orders and customers' designs are welcome.
related: chrome bathroom towel rack shelf, hotel style towel rack shelf, bathroom towel rack, hotel style towel racks, wall mounted towel racks, hotel style towel shelf.