Electric Instant Hot/Warm Water Heater Washbasin Faucet for Russia and other North European Countries.Sanliv Original Instant Hot Water Tap saves money and time in the kitchen by providing 200° F near-boiling water. Buying one instant hot water mixer tap at USD50.00 can bring you hot water in the cold Winter Day. Yes, it is right!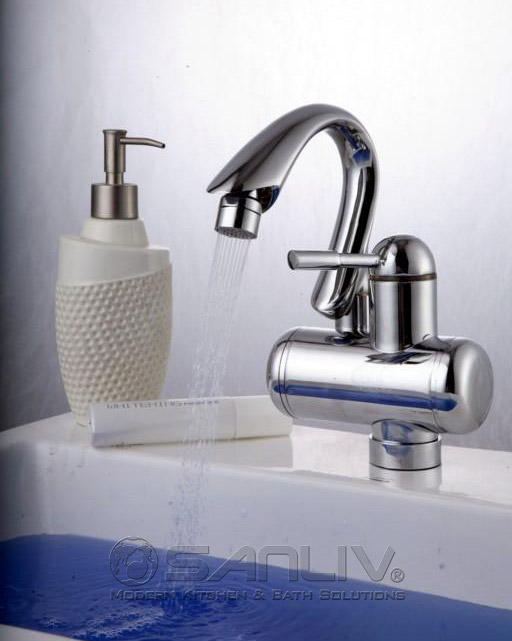 No hot water plumbing in your kitchen and bathroom?
Hate cold water from your kitchen sink faucet or bathroom basin tap in the Winter Day? Sanliv Electric Instant Hot Water Faucet can bring you warm water in 5 seconds, no special installation, just replace the old faucet directly.
Install on the basin in the kitchen or bathroom directly, replace the old faucet.Main Features:Water inflows from the side;Engineering plastic body;Leaf-style chrome-plated zinc alloy handle;Beautiful and elegant appearance;5 seconds instant heat;One handle operation; Cold-hot water can be adjusted. More features:
24H HOT WATER ON DEMAND;
3 SECONDS DELIVER HOT WATER;
NO NEED PREHEAT AND PRESERVE HEAT;
99% HEATING EFFICIENCY,ENERGY SAVING AND WATER SAVING;
LONG LIFE(3000h HEATING ELEMENT CONTINUOUSE TESTING);
TEMPERATURE RANGE:AMB. TEM.-60°c;
AMBIENT TEMPERATURE WATER AND HOT WATER BOTH STAND BY.
DUAL ISOLATION BETWEEN ELECTRIC WATER PART,SAFE;
DRY-HEATING PROOF PROTECTION,FOOLPROOF OPERATION WITH SINGLE LEVEL.
SANLIV Single handle electric kitchen/Bathroom Sink Faucet instant heating basin faucet – Instant WATER heater faucet User Manual:
Turn on the tap switch, only need 5 seconds ,the hot water flow out . the temperature can be adjusted from 30-70 degree.
Economic choice Save electricity save water.
automatic control, input water, the power on , no waiting, no waste. It is your best choice .
Prevent dry heating, No water, no power .And the water temperature can be adjusted. With overheat protection device. When the temperature over 70 degree. It will turn off heating function. Very safe.
Easy to install, in winter, turn the handle to the hot position, have endless hot water. In summer ,turn the handle to the cold position, same as normal faucet usage.
With strict quality control, The plastic use imported raw material, Each process under strict quality checking.
Our goods pass CCC test in China, with 3 different leakage protection. Very safe to use.
SANLIV Instant water heater faucet series product common features:
1.Save water: General storage-type water heaters waste a lot of water for a longer pipe line,while our products use terminal heating method with no pipe line loss.If it is used 20 times for one day,it will save 50-100L water.
2.Save electricity: Our products use terminal heating method,without preheating and keeping the temperature,and no pipe heat loss.So our products can save more energe than general storage-type water heaters.
3.Save time: The heating rate of our products is very fast.The water can be heated in five seconds,and this will save a lot of time for consumers.
4.Save worry: Our products can provide hot waters for 24 hours a day,so there is no need to worry about no hot water for too many people or bad weather.The products can fully meet the high standards and fast-paced life demand for modern people.
5.Five advantages: Simple installation;Easy to use;Full-featured;Fast and efficient;Good quality and inexpensive.
6.Six security insurance: Water and electricity double isolation; Professional anti-dry design;Reliable grounding;Ping An insurance; High-sensitivity thermal fuse;Withstanding voltage above 1500.