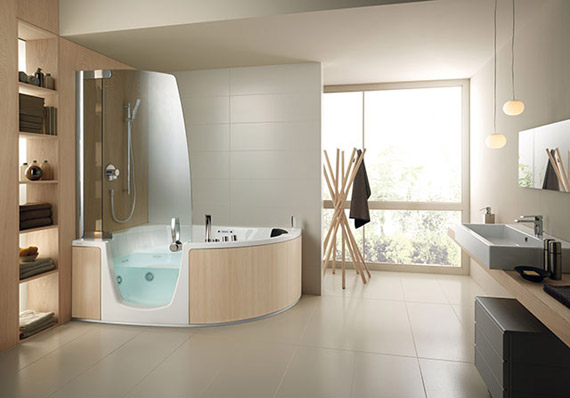 One of the major advantages of corner whirlpool shower combo by Teuco is the possibility of having the convenience of a shower function every day together with the comfort of a bathtub, without having to choose between the two since both functions are perfectly integrated. In addition, the design of the two new models is based on the compact size andoffers more versatility, fitting in more easily in smaller bathrooms.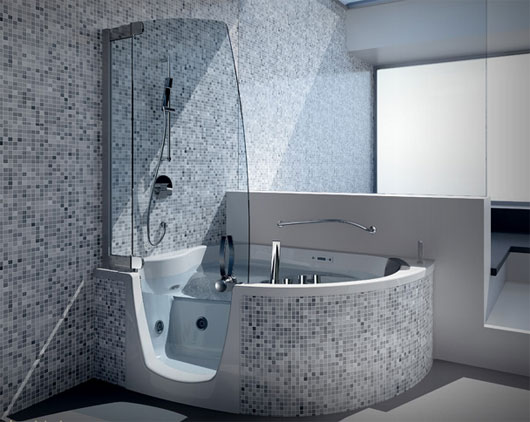 Designed to interpret the needs of all the members of the family, the 382 and384 combi units are the ideal solution for children and the elderly too. Thanks to the painstakingly studied ergonomic design and to the ample structure, these combi units make for easy, simple and safe usage. Indeed, they stand out for their easy access thanks to the 13 cm high step and feature a convenient extra thick (8 mm) tempered glass full-height door, more than 90 cm wide, which makes it even easier to get in and out. Last but not least, the whole bathing/showering experience is made even safer thanks to the handle with mechanical latch which prevents the door from being opened accidentally.
As for the entire Teuco product range, there is a scalable range of optionals available.
The bathtub is available in the versions with Basic whirlpool or Hydrosilence, the first and only truly silent whirlpool, an exclusive Teuco patent, where the noise emissions in the tub are reduced by 70% while eliminating all vibrations, without reducing the efficiency of a classic whirlpool. The result is total relaxation, where the natural, relaxing sound of flowing water turns the bathtub into an ideal place to give in to the pleasure of a deep regenerative wind-down, thanks also to the charming and relaxing coloured effects of the optionalchromoexperience function.
This is teamed with the painstaking care for details and the extensive range of customised panelling. Indeed, the styling appeal is truly beguiling, with the new panels covered with wood finish such as limed oak, anthracite oak and wenge.